The world of web design is often experiencing changes; for better ways. There are few that retain their elements and go unchanged, such as having relevant content, large readable title fonts, simple design etc. There have been a few new features added for website design trends to make an impactful impression on visitors.
Finding and learning the best web design style for your website is a part of the web design strategy to accomplish your branding goals. After all, the goal is to attract and gain more site traffic in the hope of having a conversion lead. Without further ado, here are a few modern web design element trends to try this 2022!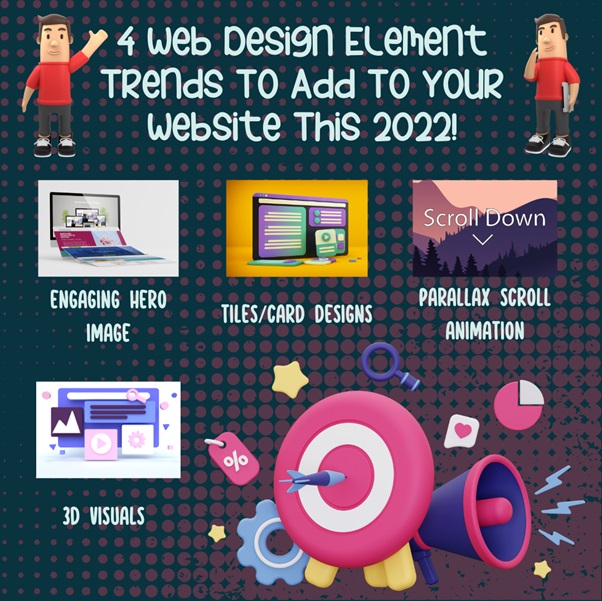 1. Engaging hero image
Your hero images are more than just oversized banners. Plenty of website design services are incorporating responsive hero images as features for their client's site since it provides an easy but engaging visual experience that encourages visitors to scroll down. Larger images can be used to create a striking visual that tells a story or an idea.
2. Tiles/card designs
Tiles or card designs are basically a design type that breaks down visual or content pieces into bite-size pieces. Think about the look of Pinterest or the start menu interface of Windows 8/10. Many B2C sites are also adapting it since it's easier to highlight products and make them stand-out side by side.
3. Parallax scroll animation
Perhaps you might have come across this from a website design company in Singapore or a site that promotes a particular software. Parallax scroll animations might be a subtle effect. Yet it provides an illusion of depth and movement, which helps bring many pictures and illustrations to life! It adds a pleasing browsing experience without drowning your site in visual details.
4. 3D visuals
With the dawn of high-resolution images and video quality, 3D design is seeing success and attention in web design. They can add an overall pleasing visual and user experience and work best with minimalist designs. What's ideal with 3D visuals is they add more layers of creativity to convey marketing intention.
Visit eFusion Technology for the best website design company in Singapore.